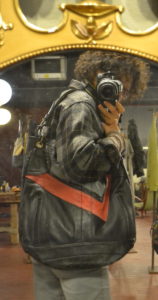 Le nostre borse da giubbotti da motocilisti sono pezzi unici e impossibile da ripetere. Ogni borsa porta un disegno e colori specifici dell'epoca a cui apprtiene il giubbotto. Questa borsa Pergusa in particolare, è stata realizzata da una giacca anni 80, quindi con colori e abbinamenti più sobri e  linee geometriche discrete. Spesso veniva utilizzato lo sfondo nero. Oltre alle borse, realizziamo zaini e borse da viaggio.
Se siete interessati in una borsa Pergusa fatta specialmente per voi, vi prego di contattarci a : info@silentpeople.it e vi metteremo subito a disposizione i giubbotti disponibili per realizzarla. Queste borse sono pezzi unici e irripettibili.
Our bags from biker's jackets are unique pieces and unrepeatable. Each handbag carries particular design and colors due to the period they belong to. This Pergusa handbag, for example, comes from a 1980's jacket, usually, colors are sober with red, grey or black geometric designs on black leather. We also make backpacks and weekenders following the biker style.
For information pls contact us via e-mail: info@silentpeople.it We will gladly show you our jackets available to create a special Pergusa handbag for you.