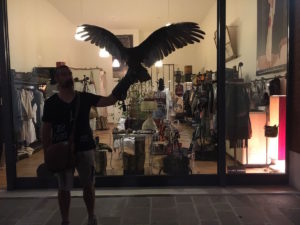 This is Mimmo, Silent People's mascotte. The cutest and friendliest volture you'll ever meet!
Non a caso siamo un marchio fuori dagli schemi, creando borse originali da materiali del mondo.
Creare modelli non convenzionali seguendo cannoni molto personali di bellezza ci ha portato a ottenere borse all'avanguardia e uniche.
Se sei una persona intraprendente che trova interessanti le idee alternative che trasmettono passione, sei la persona giusta per portare le nostre creazioni.
Fino al 15 settembre 2017 ci trovi anche a Marina di Ravenna, RA –  Via Marinara 115
Passate a trovarci