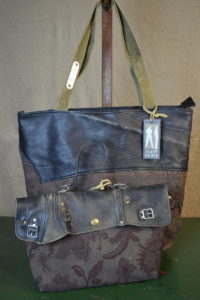 Thinking on a cool season, we've made two semi-waterproof handbags using waxed fabric from a 1980's jacket and damask fabric with a rubber treatment which turns it into semi-waterproof fabric.
An everyday shoulder bag with long straps made by reproposing old 1960's green olive straps which once belonged to Italian  anti-gas mask cases and destressed black leather.
The second small top-handle bag has a flap closure from 1960's Austrian gaiters. The thin handle comes from old horse bridles. Very cute to use on a frizzy evening out with friends.